July 30, 2021
Mexican Street Corn Salad and Frozen Peaches
Mexican street corn salad 🌽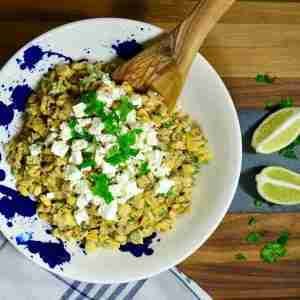 4 cups frozen peaches and cream corn
1 tbsp chosen foods avocado oil
1/4 cup chopped cilantro
1/3 cup diced feta cheese
1/2 of a diced jalapeño
1 diced green onion
Dressing:
1/4 cup oikos_canada 0%mf plain Greek yogurt
1/4 cup low fat mayo
1/2 tsp chili powder
1/2 tsp cumin
1/4 tsp diamond crystal salt kosher salt
1/4 tsp smoked paprika
2 cloves of garlic minced
3 tsp fresh lime juice (approx 1 lime)
Mix all your dressing ingredients and set aside.
In a large fry pan, over med-high heat, heat your oil. Add your corn letting it sit in the pan a minute at a time without stirring to slightly char. Once fully cooked set aside and allow to cool.
When ready to serve stir together your dressing, corn, jalapeño, green onion, and cilantro. Top with additional cilantro and feta.
Make Also: Orange Apple Berry Smoothie with Vanilla