April 28, 2021
Tiramisu Chia pudding Greek Yogurt
Tiramisu Chia pudding☕️🍫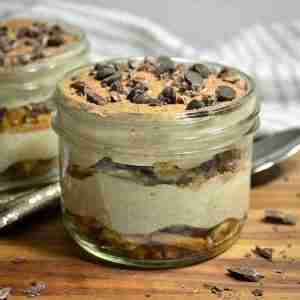 Chia pudding:
1/4 cup oikos_canada 0%mf plain Greek yogurt
1/4 cup 1% cottage cheese
1/2 cup silk cashew milk
4 tbsp prana snacks chia seeds
1 scoop optimum nutrition vanilla protein powder
1 scoop vital proteins collagen powder
1 tsp vanilla extract
A pinch of salt
1/3 cup cauliflower
2 christie cookie co lifestyle no sugar added shortcake cookies
nuts dotcom cacao powder
prana snacks cacao nibs
lilys sugar free dark chocolate chips
1 tbsp instant espresso powder (plus more for sprinkling)
In a high powered blender mix the chia pudding ingredients until smooth. Pour into a jar and set in the fridge overnight.
The next day, in a small bowl mix 1/4 cup of water and the espresso powder to dissolve. Pull out your chia pudding to assemble. Dip one of your cookies in the espresso (don't let sit too long if you want a crunchier layer) and crumble into chunks in the bottom of a second jar. Pour 1/2 your chia pudding mix on top of the cookie.
In a small sifter add a layer of cacao powder. Sprinkle with a bit more espresso powder and cacao nibs. Dip your second cookie in the espresso and crumble into the jar. Pour the remaining chia pudding on top and again top with cacao powder, espresso powder, cacao nibs, and a few chocolate chips.
Make Also: Cordon Bleu Stuffed Chicken Burgers